Winter brings with it chilly winds and sub-zero temperatures. With shorter days and cold weather, most people experience a lull in their motivation to stay active. Many of them are tempted to skip the gym in exchange for warm nights spent indoors. Weekend bike rides and afternoon runs are also sacrificed because of the bone-chilling weather. Since winter coincides with the holiday season, most people focus their attention on preparing for gift giving, holiday parties, and family dinners.
Given all these distractions, most people let diet and exercise fall by the wayside during the winter. By the end of the holiday season, many of them have already gained a few pounds and begin to experience feelings of anxiousness or depression.
Don't let the cold weather and holiday throw your fitness off track. You have worked so hard to achieve that body, so don't let all your efforts go down the drain. Read on for tips on how to stay fit and healthy during the winter season.
Mindful eating
Image Source: www.oprah.com
According to studies, the average American gains about one to two pounds over the holidays. It's not surprising given that most people attend festive events during this time of the year. Many of them are centered on foods.
Since most of our favorite foods are served in front of us, this makes it even more difficult for us to stop eating. While there is nothing wrong in indulging in your favorite foods, you may want to take a healthier approach to what you eat during the holiday season.
Choose your foods wisely. Limit the number of high-calorie foods on your plate and fill it with vegetable dishes, leafy green salads, and lean proteins. Concentrate on your meal while eating. We know you're eager to catch up with your family, but you are more likely to lose track of how much you've eaten if your attention is somewhere else.
Go outdoors
Image Source: www.running.competitor.com
Most people feel less inclined to venture outdoors during the winter months. However, staying cooped up inside the house isn't good for your health. Later on, you may find yourself depressed and blue. Going outside can help you feel better. Adding an outdoor workout to your routine will do your body good and instantly improve your mood. Not only will you burn more calories, you'll also be able to put an end to SAD.
Before you walk out the door, make sure that you wear enough layers to keep you warm and comfortable. Dress in easy-to-remove layers to allow for changes in temperature. Never attempt to exercise without a sufficient warm up. Otherwise, it can lead to shock in joints, muscles, tendons, and ligaments. Our body takes a longer time to warm up in winter, so make sure that you invest more time in your warm up.
Use the stairs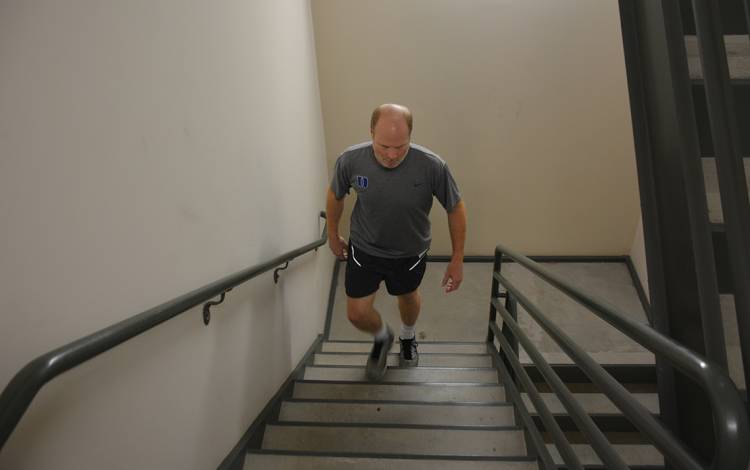 Image Source:www.today.duke.edu
Most people go on vacation during the holiday weekend. We bet the last thing you want to do is to put on your joggers and go out for a run while on vacation. To help you burn some calories, you may want to take the stairs at your hotel rather than taking the elevator. You can also do this at the office, subway station and other places.
Don't think of climbing stairs as a consolation workout. It may not feel like a workout, but it actually is. In fact, it can help you burn more calories, tone and sculpt your body, increase core muscle strength, and maximize your cardio efforts. Most importantly, it's free. Just about all of us can get access to stairs.
Shovel snow
Image Source: www.popularmechanics.com
Your walkway and driveway are likely topped with a lovely coat of white snow during this time of the year. If you allow snow to build in your driveway, this can cause potential danger to your family, your, car, and your home. So go get that shovel and start clearing the driveway.
Shovelling snow can be a very intense activity. In fact, 30 minutes of shoveling is the exercise equivalent of hitting the gym for about an hour. It is actually a great workout that engages all of your major muscles, including your triceps, biceps, glutes, quadriceps, back, and abdominals.
Most people tend to underestimate how hard shoveling snow is. This activity is almost comparable to lifting weights. Lifting heavy snow plus the cold winter air makes it even more challenging. Do not attempt to do this on your own if you have a history of heart problems. You don't want to be rushed to the hospital while clearing snow.
Get a flu shot
Image Source: www.mensfitness.com
Most people spend most of their time inside the house during the winter. Viruses are more likely to thrive indoors since the doors and windows stay shut 24/7. This makes you more susceptible to colds and flu.
Anyone who has a suppressed immune system may contract the flu. Just because you did not develop symptoms, doesn't mean that you're immune to it. You're still carrying the virus and may have passed it on to someone else already. This is why we think it's important that everyone gets the flu vaccine this winter.
Ice skating
Image Source:www.fitday.com
If you're looking for a fun activity that can also double as a form of workout, try ice skating. Most cities will have an ice skating rink.
Ice skating is a great way to get some exercise and embrace the winter weather at the same time. In fact, skating is said to be more beneficial than running. The joints and muscles of the legs get a great workout through gliding and synchronized movement of the legs. It also targets almost every muscle group in the body. What's great about ice skating is that it provides a great aerobic workout without even knowing it because you're actually having fun. The best part is you can share this activity with the rest of the family. Skip the gym and hit the ice this winter. With ice skating, you can stay in shape and have fun while you're at it.