Similar to women's fashion, men's fashion trends also keeps changing. What may be in right now may not be on trend next year. Many fashion conscious men want to stay up-to-date on the hottest trends. If you are one of them, then we urge you to keep reading.
Here are some of the hottest men's fashion trends for 2018, along with some tips on how to pull them off.
Tropical print shirts
Image Source: www.fashionbeans.com
Hawaiian shirts are often brilliantly colored with floral prints or generic Polynesian motifs. They are made from lightweight fabrics, short-sleeved, and feature a collar. These shirts provide an easy way for men to incorporate fun prints into their wardrobe.
Most people assume the tropical print shirts are only reserved for the summer season. While the busy prints and bright colors make them a great choice for the summer, they can be worn all year round. The key is to keep the rest of your outfit monochrome. It all comes down to what you pair with it.
Hawaiian shirts can be worn in a way that you look good. Your shirt should remain the focal point of the outfit. You want your shirt to standout without making the outfit look too busy. White or black pants are a foolproof option to pair with any tropical print shirt. For the warmer months, you can switch the pants with shorts. Also, choose simple accessories like an understated watch or simple shades. Avoid busy accessories or other distractions
Pop of color
Image Source: www.sfgate.com
Most people wear dark-colored clothing during the winter. With the cold, dark and gloomy weather, along with the lack of color in our wardrobe, it's not surprising to know that there is a sudden increase in the number of people who suffer from depression during this time of the year.
Most men stick to black, white, gray, and blue. The good news is that more and more men are embracing bright colors and prints, which is why it made it to our list of men's fashions trends. Cue the endless cycle of black, gray, and more black by incorporating a few brightly colored pieces into your everyday outfit. T-shirts and sweaters are perfect for adding a pop of color. With a brighter hue on top, your darker, everyday look will get an immediate lift. Make sure, though, that it's your only pop of color or you'll look silly.
Colored suits have been featured on the runway this season. In fact, designers like Martine Rose, Kenzo, and Tom Ford featured suits in vibrant colors and prints at the New York Fashion Week. If you are looking to move outside of the traditional colors, we dare you to wear one at the office.
If you're not that adventurous when it comes to clothing, try accessorizing. It's a simple way to switch things up without being over-the-top and garish looking. Choose a brightly colored bag, accent laces or a colorful watchband that matches the rest of your wardrobe.
Side stripe trousers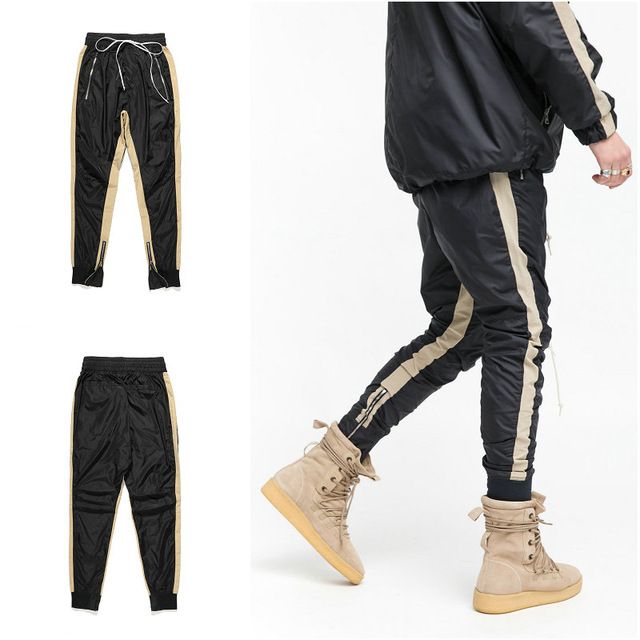 Image Source:www.dhgate.com
Over the past few years, the side stripe pants have made its way in and out of the spotlight. It looks like this is one of those men's fashion trends that will remain prominent this year. In fact, there has been a surge of popularity of side stripe trousers in recent years. They have become a menswear staple and have been seen by all the major designers.
Side stripe trousers are a hybrid between the suit trouser and the mighty tracksuit trouser. They feature a combination of a clean, modern silhouette and sporty aesthetics. Besides being comfortable, they also seem to work well on all body shapes. Considering all these benefits, it's easy to see why it is one of the hottest trends of the seasons.
Fabric, fit, and form are the most important things to consider when choosing side stripe pants. You want to ensure that it is loose enough that it's comfortable, yet it fits well that it flatters your physique. For maximum versatility, always go for opposing top layer. That means pairing these casual-looking trousers with a sweatshirt or roll neck. Avoid anything that is too street-influenced. Otherwise, you'll look like you just came from the gym.
Tonal dressing
Image Source: www.fashionbeans.com
The monochrome or one-color wardrobe is one of the most popular men's fashion trends of 2017. Often, you'd see a lot of men wearing an all-black or all-white wardrobe. The trend continues in 2018, but this time, we're talking about tonal color matching.
Tonal dressing is wearing multiple shades of the same color. You can even mix two or three tones together, and you'll still rock your look. All-black outfits will still fit in this category. However, you can't wear it all year round. To keep your tonal outfit from looking boring, try incorporating some pops of color. A pair of blue-tinted sunglasses, a deep brown suede bag, and a silver watch will complete the look. Also, try mixing different fabrics. This will make the different shades work together.
If doom and gloom isn't your thing, you can always go with beige or navy blue. These are great options as it allows you to inject a bit of color into your outfit while still hanging onto that classic feel.
Vertical stripes
Image Source:www.lookastic.com
Stripes are a classic staple in the men's wear world. This season, we're doing away from the classic horizontal stripes and start focusing on something more a little vertical.
There is nothing more classic than stripes. In fact, you'll see this pattern on virtually every piece of clothing you can think of – from shirts and jackets to trousers. Being one of the biggest men's fashion trends of 2018, vertical stripes are officially menswear's new go-to pattern.
Vertical stripes give off the illusion that you're slimmer and taller than you actually are. It is the perfect choice for men who are vertically-challenged. While vertical stripes create an illusion on your body, there is still a right and wrong way to go about it.
Wide stripes are not stylish. As a general rule, you want to keep the stripes thin. Pinstripes are a good example of this. For best results, choose clothing with varying thickness and color of stripes.